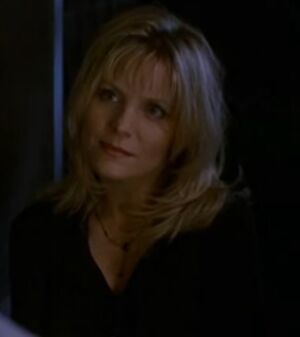 Lynn Conklin
(Rebeccah Bush) was a villainess from 
Diagnosis Murder
. She appeared in Season Three's "Love is Murder."
Lynn Conklin was a newspaper reporter who was shown in the opening scene killing police officer Tom Ames after sleeping with him, and she later appeared at a bar with Steve Sloan, who she had been dating for a while. Though not entirely shown, Lynn did the same to another police officer, Frank Barons, later on, and killed another policeman after that--staging all of the deaths as suicides. Once Steve finds photos of the slain officers in her possession, he starts to realize that Lynn is a serial killer.
While in Lynn's house, Steve finds clipped headlines of the murders, while learning that she has killed other cops in different cities. He also learns Lynn's motive for her murders:  revenge. A newspaper clipping revealed that Lynn was sexually assaulted by a group of cops when she was 18, but they were never charged or convicted. At that moment, Lynn drives home and sees Steve's car parked in front of her home, and pulls her gun on him after entering. Lynn's attempt to kill Steve fails once Steve escapes out the window, but he is left temporarily blinded.
A despondent Lynn in in her car reading the headline about her failed attempt to kill Steve, before she picks up a woman who approached her. Steve is later told by Mark that Lynn committed suicide and was found dead, but this is proven false when Lynn broke in to Steve home and confronted him once again. It also suggests that Lynn may have killed her female passnger and used her body to fake her death. Lynn's plan was to kill Steve and then herself; claiming that her failure to kill Steve was a sign that they were meant to be together. Steve, despite his visual impairment, fights off Lynn, but the villainess follows him into the living room. Steve manages to retrieve his gun and shoots Lynn to death.