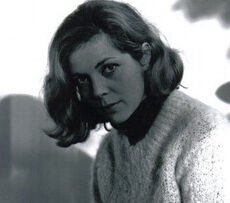 Before she became famous in acting roles, then-supermodel Barbara Bain depicted villainess Madge Slausen in a 1959 episode of 'State Trooper'.
SYNOPSIS:
Madge heads a small, but efficient, gang of robbers. She keeps her two henchmen, Rex and Ben, in a constant state of jealous rivalry to perform even more daring crimes to win her favor. Her model's looks, tight sweaters and slacks, make her quite an impressive leader.
The gang steals a car belonging to bandleader Frank DeVol, who is performing at the Cal-Neva Resort. Unbeknownst to Madge and her men, DeVol's priceless Stradivarius violin is in the car. Inspector Blake sets a trap for her, by having DeVol offer a $10,000 reward for its return. Madge takes the bait, but in the meantime, Rex shoots and kills a man during a robbery.
Throughout this episode, Madge comes across as a rather amoral villainess. Without any concern for the man slain the robbery, she scolds Rex and Ben for leaving the loot behind. Then she sets her sights on the reward, the gang argues and Ben shoots Rex; Madge simply leaves him on the floor and goes off with Ben to collect the money for the violin.
Rex, however, is mortally wounded and calls Inspector Blake, confessing everything before he died. DeVol goes to the rendezvous in an abandoned barn, Ben knocks him out, and Madge leaves DeVol on the floor with the money. But Inspector Blake shows up just in time, and Madge flees during the shootout with Ben---but into the waiting arms of the local sheriff! Blake storms the barn; gives Ben a good beat-down, and leads him outside before the defeated Madge, waiting next to the police car with her hands cuffed in front of her.
Ad blocker interference detected!
Wikia is a free-to-use site that makes money from advertising. We have a modified experience for viewers using ad blockers

Wikia is not accessible if you've made further modifications. Remove the custom ad blocker rule(s) and the page will load as expected.