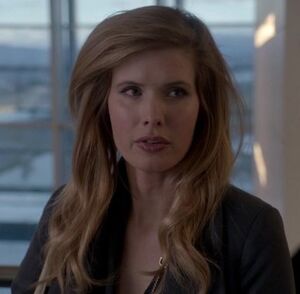 Mae Feinberg 
(Jud Tylor) is the main villainess from 
The Mentalist 
episode 6.17, "Silver Wings of Time" (airdate April 13, 2014).
Mae Feinberg is the second wife of Dr. Edward Feinberg, who she met when she was a student of his 14 years prior to the episode's events. At the time, Edward was married to his first wife, Sarah, and knowing that Edward wouldn't leave his wife, Mae broke into the Feinberg home and killed Sarah, shooting her twice in the back. After the murder, Mae dumped the gun into a pond.
15 years later, Luis Cruz was accused of the murder and was two days away from execution. His friend, David Renaldo, had been attempting to prove Cruz's innocence, prompting Mae to hire private investigator Pete Koch to kill him, which he does with a bomb in a briefcase. After Koch went through Renaldo's briefcase and found proof of Cruz's innocence, the evil Mae shot and killed him to cover her tracks and keep her villainous secret hidden.
Edward ended up being accused of the murders, but Mae was revealed as the killer when the news broke of Cruz's execution. Jane caught Mae actually smiling and feeling triumphant over the news, while Edward expressed grief when Jane told him the news. After the charges against Edward were dropped, Mae was confronted by Edward after Jane informed him that she killed Sarah. Mae finally admitted to killing Sarah, stating that she "did it for us." After her confession, Jane and company drove up and arrested Mae, while also revealing that Cruz was not executed at 10:00 like Mae thought. The clocks were all set forward to trap Mae, and Jane planted a bug in Edward's pocket, which recorded Mae's villainous confession.
Ad blocker interference detected!
Wikia is a free-to-use site that makes money from advertising. We have a modified experience for viewers using ad blockers

Wikia is not accessible if you've made further modifications. Remove the custom ad blocker rule(s) and the page will load as expected.