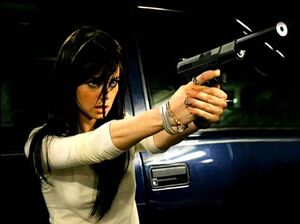 Mandy 
is a recurring antagonist from the popular television series 24. She is portrayed by actress Mia Kirshner.
Despite appearing in only 7 episodes of the series (as well as a brief appearance in the game), Mandy is one of the show's longest running antagonists. She has appeared over three seasons of the show and is one of the few 24 villains who remain at large.
Ad blocker interference detected!
Wikia is a free-to-use site that makes money from advertising. We have a modified experience for viewers using ad blockers

Wikia is not accessible if you've made further modifications. Remove the custom ad blocker rule(s) and the page will load as expected.