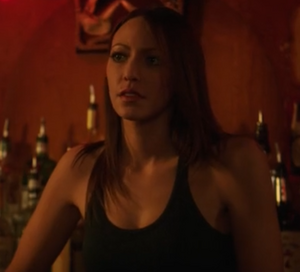 Margo Healey
(Kate Rogal) is the hidden main villainess from 
Forever 
episode 1.18, "Dead Men Tell Many Tales" (airdate March 24, 2015).
Margo is the lone female member of a group of treasure hunters, which was led by Rick Rasmussen. As revealed later on, Margo had revenge on her mind, as her brother, Brock, died on one of Rasmussen's hunts. She snuck up on Rasmussen and killed him with a harpoon through his chest. Upon learning that Isaac Monroe funded the hunt, which was for the Empress of Africa, the evil Margo targeted him next.
Margo followed Isaac to his place, where he was on a date with detective Jo Martinez. She smashed a vase on Isaac's head and was set to kill him with a knife before she was caught by Jo. The women brawled in Isaac's living room, ending with Margo arrested for murdering Rasmussen and attempting to kill Isaac.