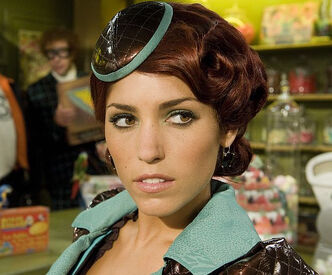 Mega Volta
(Yolanthe Sneijder-Cabau) is a villainess from the 2009 Belgian movie "Het geheim van Mega Mindy".
Mega Volta uses a consortium of criminals to threaten Mega Mindy (Free Souffriau), the heroine.  She assembles this lot at Miss Volta's power plant, and constructs a device to trap the cumbersome hero in an energy field and trap her powers.  In the process, Volta is converted into her own powerful Mega Volta in order to battle Mindy.
As Mega Volta tries to blast the superherione, her plans are foiled as her electric gun gets reflected back at her. The villainess is completely humiliated in a helpless state as the police arrest her.
Yolanthe Sneijder-Cabau also played another villainous role in the Dutch crime drama Flikken Maastricht as murderess Elke.