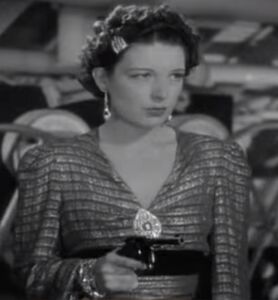 Miss Olga Arvin (Phyllis Barry; 1908-1954) is the villainess from Three Little Sew and Sews, a Three Stooges short released on January 9, 1939.
Miss Arvin is the evil henchwoman to Count Alfred Gehrol, and the pair planned to kidnap Admiral Taylor and steal a submarine. While attending a gathering, they see the Stooges appear, with Curly posing as Admiral Taylor, and it is at that moment that Miss Arvin flirts with Curly. The trio are duped into allowing the spies in the submarine, where Miss Arvin holds them at gunpoint. While doing so, the villainess shrieks at seeing a mouse, dropping her gun in fear. Later on, the evil Miss Arvin stalked Larry with a knife, but Curly knocks out the villainess and Count Gehrol, and the pair are later arrested.
Ad blocker interference detected!
Wikia is a free-to-use site that makes money from advertising. We have a modified experience for viewers using ad blockers

Wikia is not accessible if you've made further modifications. Remove the custom ad blocker rule(s) and the page will load as expected.