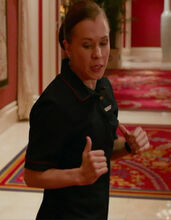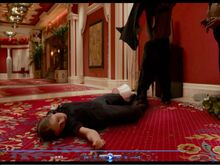 Nadia ( Chelsea Vincent) is a minor antagonist from the 2015 comedy movie Paul Blart: Mall Cop 2, sequel to the successful 2009 movie Mall Cop.
She plays one of the team of art thieves headed by main villain Vincent (Neal McDonagh) who plan to rob a fine arts exhibition at a top Las Vegas Resort. They did not plan on Paul Blart ( Kevin James), the overweight and fumbling, yet dogged, tenacious and resourceful hero from the first movie, being present at the same resort!
Nadia is a lithe athletic woman of about 5 feet 6 inches, who seems very proficient in martial arts, she is eventually knocked out cold in the final showdown after trying to take on a much larger security guard woman upon whom her martial arts kicks and punches have little effect.