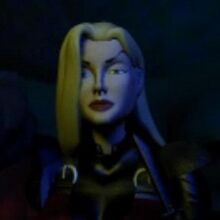 Natalia Kassle is a main antagonist in "Danger Girl" the game published by THQ for Playstation, the game based on the original comic of "Danger Girl". She also appeared in the comic book version of the series. In the game, Natalia is a former KGB agent recruited by Danger Girl team, a double agent whom work for evil scene, during the last battle she got killed by Abbey (one of Danger Girl's allies).
Ad blocker interference detected!
Wikia is a free-to-use site that makes money from advertising. We have a modified experience for viewers using ad blockers

Wikia is not accessible if you've made further modifications. Remove the custom ad blocker rule(s) and the page will load as expected.