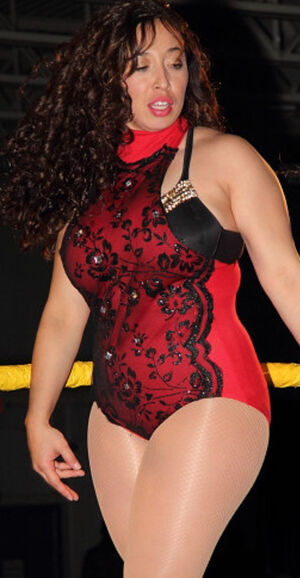 Niya Barela
(aka
Ezavel Suena
) is a professional wrestler best known for competing for
Women Superstars Uncensored (WSU)
, where she portrayed a villainess.
Niya debuted for WSU in 2010 as a babyface, but her tenure there came to an abrupt end when she lost a Loser Leaves WSU match to Jennifer Cruz in 2011. However, Niya returned to WSU on January 2012 as Ezavel Suena, a villainous masked wrestler, and attacked Jenny Rose and Jessie Brooks after their match ended in a draw. Suena teamed with manager Rick Cataldo in a losing effort against Rose and Brooks in a tag team bout at WSU's 5th Anniversary Show, but they would defeat Annie Social and Kimber Lee months later while their J-Cup Tournament took place.
By October 2012, Niya began competing as both herself and her villainous alter-ego, in an attempt to get back on the roster, with everyone unaware of Suena's true identity. She lost matches to Saturyne and Veda Scott in back to back events, with the latter match officiated by Jana, who missed Niya being on the ropes while Veda pinned her. At the Uncensored Rumble event on August 10, 2013, Niya lost to Jana via DQ when she refused to break during a five-count. Later in the event, Niya donned the mask and competed in the Uncensored Rumble Match as the evil Suena. She went on to win the battle royal and received a shot at the Spirit Championship, which was held by Marti Belle.
Suena lost to Marti at Blood and Thunder in October, but after she attacked Marti, she was challenged to a Title vs Mask rematch. At Mutiny on February 8, 2014, Ezavel Suena defeated Marti Belle to capture the Spirit Championship, but after the match, she removed her mask and revealed herself as Niya, completing Niya's heel turn.
At United on July 12, the evil Niya kicked off the event by bragging about how she tricked the fans and everyone in the WSU roster when she competed as Suena and won the Spirit Championship to get back on the roster. She was confronted by Nevaeh afterwards, which kicked off a rivalry between the two. Niya resurfaced and attacked Nevaeh and Brittany Blake after their match, which led to the duo defeating Niya and Jessie Kaye at Resurgence. At Breaking Barriers III, Niya successfully defended her title against Tessa Blanchard and attacked her after the match before she was run off by Nevaeh, who announced that she'll be competing for Niya's title at the next event. Niya lost the Spirit Championship to Nevaeh at WSU's 8th Anniversary Show on Februray 21, 2015.
Ad blocker interference detected!
Wikia is a free-to-use site that makes money from advertising. We have a modified experience for viewers using ad blockers

Wikia is not accessible if you've made further modifications. Remove the custom ad blocker rule(s) and the page will load as expected.