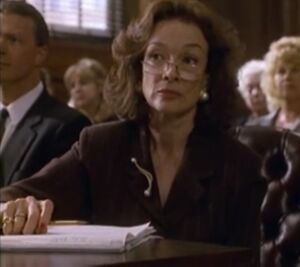 Patricia Purcell
(Dixie Carter; 1939-2010) is the main villainess from
Diagnosis Murder
episode 3.04, "Murder in the Courthouse" (airdate December 29, 1995).
Patricia Purcell is a District Attorney who is shown making a bomb (which she places in her briefcase) in the opening scene of the episode. Her target is notorious Russian mobster Yuri Andropovich, who she is prosecuting in his latest trial. During jury deliberation, the evil Patricia took the short time allotted to head down to the impound area and place the bomb inside Yuri's car, after setting the bomb to detonate once Yuri enters. This was done with Patricia figuring that Yuri would be acquitted, which he was, but once he entered his car and drove, the bomb went off, killing Yuri.
Patricia's villainous motive was revealed to be revenge. She was romantically involved with a married police officer who was working undercover to bust Yuri, but their affair resulted in his cover being blown, and Yuri killed him. This was all according to the officer's widow, who blamed Patricia for his murder. Patricia's scheme resulted in Eddie Lok, grandson of bomb maker Qwan Lok, being arrested, which prompted a meeting between Qwan and Patricia, revealing themselves as co-conspirators in killing Yuri. Patricia threatened to implicate Qwan if he ever revealed their collusion, and later in the episode, she is shown attempting to get Eddie out of jail before she is encountered by Mark Sloan. Once Patricia enters her vehicle, she and Mark hear ticking noises, fearing that a bomb is under her seat. However, after Patricia tells Mark how to deactivate the bomb, it turns out to be a ruse to implicate her, and there was never a bomb in her car. Patricia is later arrested for Yuri's murder.
Ad blocker interference detected!
Wikia is a free-to-use site that makes money from advertising. We have a modified experience for viewers using ad blockers

Wikia is not accessible if you've made further modifications. Remove the custom ad blocker rule(s) and the page will load as expected.