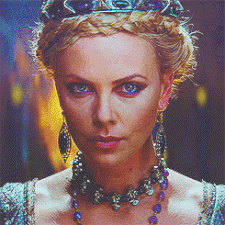 Ravenna (Charlize Theron) also known as 'The Evil Queen' or simply 'The Queen', is the primary antagonist of Snow White & The Huntsman and is also set to appear in The Huntsman: Winter's War. She is the cruel and tyrannical ruler of the kingdom ofTabor and a powerful witch. She is the sister of Finn and Freya, the widow of King Magnus and the stepmother of Princess Snow White. She is regarded as being the 'Fairest of Them All', but when she learns that, since coming of age, Snow White has now surpassed her as the 'fairest', Ravenna becomes determined to kill her stepdaughter and consume her heart, in order to maintain her powers and eternal youth, and also to keep her hold on Tabor.
Ad blocker interference detected!
Wikia is a free-to-use site that makes money from advertising. We have a modified experience for viewers using ad blockers

Wikia is not accessible if you've made further modifications. Remove the custom ad blocker rule(s) and the page will load as expected.