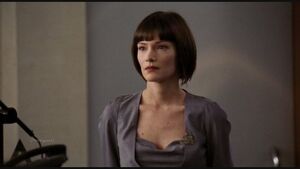 Rachel
(Annika Peterson) is the sleazebag antagonist of the fourth episode of the first season of the crime drama television series "Numb3rs", titled "Structural Corruption". 
After an engineering student at CalSci is found dead from an apparent suicide, Charlie convinces Don to launch an investigation after he reads the student's thesis which asserted that the architecturally magnificent Cole Center in Los Angeles is structurally unstable. Although reluctant at first, Don and his team discover that the student's findings were correct and uncover a dangerous and surprising conspiracy - (episode summary).
Rachel is bossys girlfriend from the construction-firm. She looks like a secretary or a business women in the first part of the ep. and is really bugged by the investigators... She is also responsible of the flub on the constructions - so in the end, the police locatete her apartment, interrupts a sex-session with her boss, and arresting her in a little humiliated circumstances for the lady: she only wears high heels and a nightgown (so she is prepared for having fun...;-)) and it seems that the female police-detective enjoy it to cuffed her arms behind, before she is leading away (in this outfit!!!) to jail.