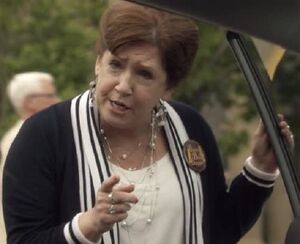 Ramona Norville (Ann Dowd) was the hidden villainess from Stephen King's 2010 novella, Big Driver, as well as the 2014 Lifetime film of the same title (airdate: October 18, 2014). She was a librarian who invited author Tess Thorne to her library for a meet and greet with her fans.
As revealed later in the film, Ramona is also the mother of Lester "Big Driver" Norville, the main antagonist of both the novella and the movie. After the meet and greet ended, Ramona suggested an alternate route for Tess to take on her way home to save an extra hour, which was part of Ramona's evil plan to send Tess into her son's clutches. While driving on that route, a road hazard set up by Lester flattened one of Tess' tires. The Big Driver himself arrived on the scene in a pickup, who offered to help Tess at first, but later revealed his true colors by attacking and then sexually assaulting her. He left her for dead in a culvert which contained the corpses of three other female victims.
Ramona's villainous role was eventually discovered by Tess, with the latter showing up at her home and pointing a gun at her. She initially denied setting Tess up to be her son's latest victim, but after wrestling the gun away from Tess, the evil Ramona boldly admitted to the conspiracy and even told Tess that she was a terrible writer. Ramona pulled the trigger, only to learn that the gun wasn't loaded, allowing for Tess to stab her in the stomach. Not too long after being wounded, Ramona was shot to death by Tess—but not before the latter increased the volume on Ramona's TV to disguise the gunshot noises.
Ad blocker interference detected!
Wikia is a free-to-use site that makes money from advertising. We have a modified experience for viewers using ad blockers

Wikia is not accessible if you've made further modifications. Remove the custom ad blocker rule(s) and the page will load as expected.