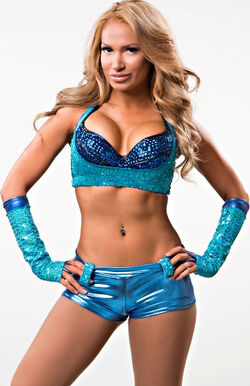 Reby Sky 
is a valet and wrestler best known for competing for 
TNA
, where she portrayed a villainess.
Reby first appeared for TNA at Knockouts Knockdown 2 in May 2014, defeating Velvet Sky to advance to the Gauntlet Battle Royal, where she was eliminated by Angelina Love. Reby resurfaced at Bound For Glory in October 2015 and celebrated Matt Hardy's TNA World Heavyweight Championship victory over entering champion Ethan Carter III and Drew Galloway. She returned to TNA on January 5, 2016 and watched as Matt was defeated by EC3 in the finals of the World Title Series. While leaving with Matt, Reby gave a sinister glare at EC3.
A week later, Reby began turning villainous when she gave her same evil glare towards Mr. Anderson, after his interview with Matt. On the January 19 episode of Impact Wrestling, Reby turned into a villainess when she helped Matt capture the TNA World Heavyweight Championship from EC3, doing so by handing Matt a hammer from her diaper bag for Matt to use on his opponent. In the aftermath of her heel turn, the evil Reby also aligned with Tyrus and later Rockstar Spud, after they both betrayed EC3.
Ad blocker interference detected!
Wikia is a free-to-use site that makes money from advertising. We have a modified experience for viewers using ad blockers

Wikia is not accessible if you've made further modifications. Remove the custom ad blocker rule(s) and the page will load as expected.