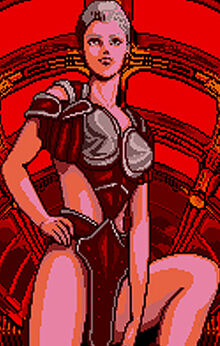 The Red Queen (レッド・クイーン) is a major villain in the PC Engine (1991) and Sega CD (1995) visual novel adventure game "Cobra II: Densetsu no Otoko" (コブラII―伝説の男― 寺沢武), also known as "The Space Adventure - Cobra: The Legendary Bandit".
Red Queen is one of the 12 high-ranking members of the Pirate Guild. She and primary antagonist Vigoro slaughter all of the nuns at the convent on Big Bird, and then burn the tattoo off of Domonique Royal's back. The two then leave the cathedral to obtain the ultimate weapon. However, after he obtains it, Vigoro feels he has no more use for Red Queen and destroys both her and her ship, similar to scene where Sandra does so to her subordinates in the Cobra manga and anime.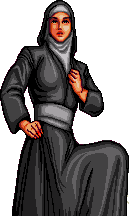 Ad blocker interference detected!
Wikia is a free-to-use site that makes money from advertising. We have a modified experience for viewers using ad blockers

Wikia is not accessible if you've made further modifications. Remove the custom ad blocker rule(s) and the page will load as expected.