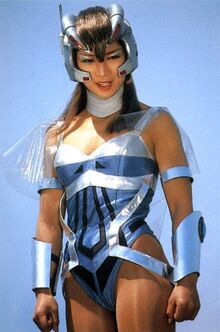 Rikki (Michio Nishiwaki) is a villainess out of the JIKUU SENSHI SPIELBAN (時空戦士スピルバン) a Japanese children show similar to the POWER RANGERS. Rikki appeared in 36 episodes running from 1986-1987.
RIKKI is a henchman and army leader of the Waller's all-female spy army. She tries to stop the heroes.
During the episode "Mumumu! Waller's New War Potential: Youki?", Rikki interferes with Youki's plan, Pandora (Machiko Soga) angrily turns Rikki into a stone statue for Youki (Masahiro Sodou) to use as his throne. After Youki is killed, the talking gerbil was given the throne for his own. During the finale the throne disappeared, though it was presumably destroyed before, or during the Gamedeath's explosion. Rikki does not exist in the alternate timeline. Parts of this show were reused for the tv series VR TROOPERS..  
Gallery: