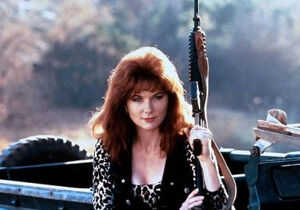 Rowena is one of the main antagonists in the 1993 film Yankee Zulu. Her character is played by Terry Treas. She is a member of a fascist South African white supremacist group called TIRD and married to the other main antagonist named Diehard. She is also the ex-wife of one of the main protagonists of the movie and the divorce settlement has impoverished one of the main protagonists.
Through a ridiculous chain of events she is eventually defeated and thoroughly humiliated at the hands of two kids, one of which is suppose to be Prince William. The kids use a variety of booby booby traps, and the scens are very slapstick in nature and played for laughs.. First she is shot with a sling shot while she is the passenger in a car. When she gets out to pursue the kids she is knocked around by a booby trapped gate. While the antagonists are distracted by the gate the two kids attach cables with meat attached to the end of them onto the bumper of the villain's cars. A tree felled by one of the kids causes the vehicle to stop, while Rowena gets out to investigate a lion pulls at the meat and startles Diehard who fleas stepping on Rowena's stomach as he does so. Rowena however see's the kids leave on their own vehicle and uses a random bike to pursue them. The bike of course is booby trapped with a very long bungee cord attached to it. At the other end of the bungee cord is a large sack of flower.The girl lets go of the bungee cord and the flower hits Rowena with a massive force covering her in flower. A girl throws a large Ostrich eggs onto Rowena's face from a nearby cliff as she attempts to recover. Eventually the mother Ostrich comes and chases Rowena, eventually kicking her off of a cliff into a lake. Rowena is immediately terrified by the pretense of an angry hippo and swims towards the shore in fast motion. Rowena desperately clings onto a random rope near the shore, only to be propelled upwards by a large bucket, presumably filled with something heavy. In true slapstick fashion Rowena's head is propelled into a bucket of syrup. Rowena has to use a ton of strength to dislodge the bucket from her head, she finally does it ripping out much of her hair, she screams with syrup dripping off of her face at the bucket that contains much of her hair. Rowena looks over to a conveniently placed mirror and is horrified by her own appearance. Foolishly she exits the tree on a zip line that is defective, she is dropped from the zip line into an old mine cart filled with oil. One of the kids shoots the mine cart with a slingshot and Rowena is sent cascading on the mine cart down a slope, her face black with oil. Rowena is horrified when she sees that the mine cart track is ending and she is going to be launched. Launched she is! The mine cart explodes for some reason and Rowena is left unconscious and hanging from a tree.
Finally Rowena is taken and hung upside down from a bridge. Rowena panics after waking up and the boys interrogate her for some information. When Rowena spills the beans one of the boys cut part of her rope with an ax, and Rowena falls dangling ever closer to her own demise. Rowena is in hysterics, still covered in oil, thoroughly defeated and humiliated.
A YouTube video exists of Rowena's various indignities and her eventual final defeat.
Her fall is selected in a Youtube video of nasty defeats.Hier
French Article
Edit
Rowena est l' un des principaux antagonistes dans le film 1993 Yankee Zulu . Son personnage est joué par Terry Treas. Elle est membre d'un groupe de suprématie blanche sud - africaine fasciste appelé tird et marié à l'autre antagoniste principal nommé Diehard. Elle est également l'ex-épouse de l' un des principaux protagonistes du film et le règlement de divorce a appauvri l' un des principaux protagonistes.
Grâce à une chaîne ridicule d'événements , elle est finalement vaincu et complètement humilié aux mains de deux enfants, dont l'un est supposé être le prince William . Les enfants utilisent une variété de pièges piégés, ainsi que les scens sont très slapstick dans la nature et ont joué pour rire .. elle est d' abord tiré avec un coup de fronde alors qu'elle est le passager dans une voiture. Quand elle sort de poursuivre les enfants , elle est frappé autour par une porte piégée. Alors que les antagonistes sont distraits par la porte les deux enfants attachent des câbles à base de viande attachés à l'extrémité d'entre eux sur le pare - chocs des voitures du méchant. Un arbre abattu par l' un des enfants provoque le véhicule pour arrêter, tandis que Rowena sort pour enquêter sur un lion tire sur la viande et sursaute Diehard qui puces marcher sur le ventre de Rowena comme il le fait. Rowena cependant voir ce que les enfants quittent leur propre véhicule et utilise un vélo aléatoire pour les poursuivre. Le vélo est bien sûr piégé avec un très long cordon élastique attaché à elle. A l'autre extrémité du cordon élastique est un grand sac de flower.The fille lâche le cordon élastique et la fleur frappe Rowena avec une force massive de la recouvrir de fleurs. Une jeune fille jette un gros œufs d'autruche sur le visage de Rowena d'une falaise à proximité comme elle tente de récupérer. Finalement , la mère autruche vient et chasse Rowena, par la suite son coup d' envoi d'une falaise dans un lac. Rowena est immédiatement terrifié par le prétexte d'un hippopotame en colère et nage vers le rivage en mouvement rapide. Rowena se cramponne désespérément sur ​​une corde au hasard près du rivage, pour être propulsé vers le haut par un grand seau, probablement rempli de quelque chose de lourd. En véritable mode burlesque de la tête de Rowena est propulsé dans un seau de sirop. Rowena doit utiliser une tonne de force pour déloger le seau de sa tête, elle fait finalement arracher une grande partie de ses cheveux, elle crie avec du sirop dripping hors de son visage au seau qui contient une grande partie de ses cheveux. Rowena regarde au- dessus d'un miroir commodément placé et est horrifiée par sa propre apparence. Bêtement , elle sort de l'arbre sur une ligne de zip qui est défectueuse, elle est passée de la ligne zip dans un vieux chariot de mine rempli d'huile. Un des enfants tire le chariot de mine avec une fronde et Rowena est envoyé en cascade sur le chariot de mine sur une pente, son visage noir avec de l' huile. Rowena est horrifiée quand elle voit que le chariot de mine piste se termine et elle va être lancée. Lancé elle est! Le chariot de mine explose pour une raison quelconque et Rowena est laissé inconscient et pendu à un arbre.
Enfin Rowena est pris et pendu la tête en bas d'un pont. Rowena panique après le réveil et les garçons l'interroger pour certaines informations. Lorsque Rowena vend la mèche un des garçons couper une partie de sa corde avec une hache, et Rowena tombe pendent toujours plus proche de sa propre mort. Rowena est hystérique, encore couvert dans l'huile, bien vaincu et humilié.
Une vidéo Youtube existe en français montrant une serie d'humiliations de Rowena.
Elle fait partie d'une compilation vidéo d'humiliation de méchantes [[1]].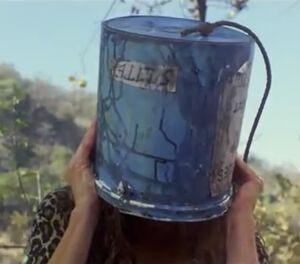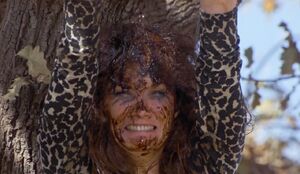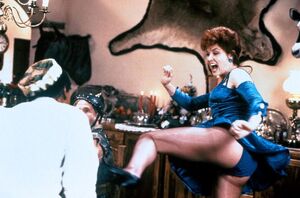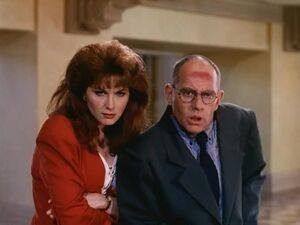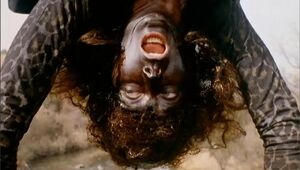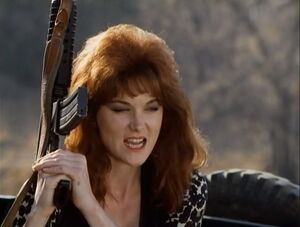 Ad blocker interference detected!
Wikia is a free-to-use site that makes money from advertising. We have a modified experience for viewers using ad blockers

Wikia is not accessible if you've made further modifications. Remove the custom ad blocker rule(s) and the page will load as expected.