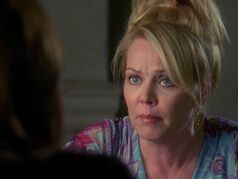 Ruth Walker (Gail O'Grady) was a villainess from "Selfish", the 19th episode of the 10th season of Law & Order: SVU (airdate April 28, 2009). She was the mother of Ashlee Walker, whom she had a strained relationship with ever since she began to turn rebellious in her teenage years. This only increase after she became the mother of Sierra, still maintaining her reckless and irresponsible ways. Ruth was also estranged from her reformed alcoholic husband Ralph.
After not seeing Sierra for a day and finding her car smelling "like a dead body" after Ashlee used it to go out for a weekend, Ruth reported her to SVU detectives Benson and Stabler, who confront her with Ruth as Ashlee is cleaning her trunk. She and Ashlee get into a fight, during which Ashlee accuses Ruth of getting drunk and leaving Sierra in the bathtub the last time she babysat her (whether this is true is debatable since it comes from known liar Ashlee). Ruth's attitude changes when it appears that Sierra was kidnapped, comforting her daughter and assuring her that Sierra would be found. But after video evidence was found that implied Ashlee had killed Sierra, Ruth became violent and attacked Ashlee, demanding to know what she did for Sierra before being dragged away by detectives.
When Monica Stewart (the anti-vaccination mother whose son gave Sierra measles, the true cause of her death) was found not guilty at trial, Ruth became outraged and shouted at her in the court, asking her how many more children she was going to kill. Ruth then entered the courthouse bathroom as an upset Ashlee was being consoled by Ralph and Benson, saying that she wasn't going to stop until Monica paid for killing her granddaughter, getting in Ralph's face and calling him weak. She later convinced Ashley to file a civil suit against Monica before the two attack her house. The two are restrained by police and Stabler warns Ruth to stop her crusade before she did something she would regret. She then encouraged her husband as Ralph charged into Monica's house (not knowing he was running in to commit suicide in front of her, not attack her). Ruth is presumably arrested along with Ashlee.
Gail O'Grady also played recurring villainess Julia McCullough on Matlock and murderess Juniper Tolliver on the pilot episode of The Mentalist, and she later played the evil Ms. Fields in Lycan.
Ad blocker interference detected!
Wikia is a free-to-use site that makes money from advertising. We have a modified experience for viewers using ad blockers

Wikia is not accessible if you've made further modifications. Remove the custom ad blocker rule(s) and the page will load as expected.