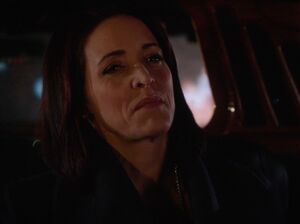 Ruvé Adams 
(Janet Kidder) was a recurring villainess from Season Four of
Arrow
. She was the wife of Damien Darhk.
Ruvé first appeared briefly in "Dark Waters," but in "Blood Debts," she and her and Damien's daughter were held hostage by Damien's former accomplice, Lonnie Machin, who was seeking revenge on Damien. They were rescued by the Green Arrow and his crew, but while they were in police custory, Ruvé brandished fake IDs and stated that she and her daughter are not related to Damien.
Ruvé turned heel in the end of the episode while she, Damien, and their daughter were in a car that was taking them to their new safehouse. She stated that Damien shouldn't have let the Green Arrow live, and that Project Genesis was close to being completed. When asked by Damien what she was promised, the evil Ruvé stated that she was promised a new beginning, and once Damien stated that she'll have it when they bring the world to an end, Ruvé smiled evilly to cement her heel turn.
In "Unchained," it was revealed that Ruvé is running for mayor of Star City against Oliver Queen. Later in the episode, Ruvé was confronted by Green Arrow, who asked her to set up a meeting between him and Damien. Ruvé became mayor after Oliver was forced to suspend his campaign, due to Damien holding Oliver's son, William, hostage. In Season Four's penultimate episode, Ruvé was killed by Lonnie Machin, who held her captive before stabbing her with an arrow.
Janet played minor villainess In Bride of Chucky her character was named Diane.
Janet Kidder also portrayed Kick In 2001 action thriller movie Dead Awake.