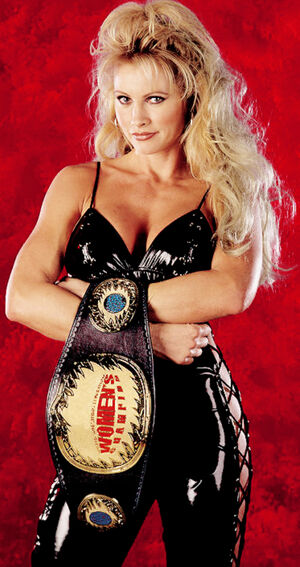 Sable
 is a former wrestler and manager who competed in 
WWE
, where she portrayed a villainess.
She debuted in 1996 as a valet and then started to wrestle a couple of years later. In 1999 she was featured on the cover of April's Playboy, which caused her ego to grow. She would barely defend her recently won WWE Women's Championship, and got her henchwoman to do a lot of her dirty work. She continued acting this way until she left the company in mid 1999.
She would then return in 2003 as the mistress of WWE CEO Vince McMahon, during this time she would humiliate the one legged wrestler Zach Gowen by pretending to seduce him backstage. She came on to him before telling him he had no chance with a woman like her and slapped him, she then mocked the fact he had one leg and told him he wasn't a real man, she then laughed as he left the room.
Sable then feuded with Vince's daughter Stephanie McMahon over the relationship between Sable and her father. They would have various catfights, one of which involved Stephanie ripping Sable's top off. At Vengeance 2003 the two women had a match, in which the evil Sable was victorious. She and Vince would later try to get rid of Stephanie for good. This resulted in an I Quit match between Vince and Stephanie at No Mercy 2003, Sable got physical with both Stephanie and her mother Linda, before the evil duo of Sable and Vince won the match and got their wish.
In 2004 she would continue to stir trouble backstage and had a short feud with Torrie Wilson, before leaving the company again.
Sable played the evil Elizabeth Rukeyser in the TV show Relic Hunter.