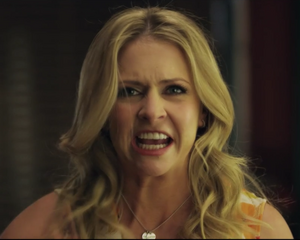 Sabrina Spellman
(Melissa Joan Hart) is the villainess from Funny or Die's video, 
Sabrina & Salem:  Together Again
, a parody of
Sabrina, the Teenage Witch
that was released in 2011.
Originally the main protagonist of the aforementioned TV series, Sabrina turned heel after Salem convinces her to use her magic just once more while dining at a restaurant. At that moment, the evil Sabrina began terrorizing customers by hurling her magic at them, all while laughing evilly and taunting them. She even tossed a cup at a young boy's head, all while displaying villainous swagger and no remorse. Sabrina arrogantly boasts while committing her evil acts, but the video ends with her powers being revealed as a figment of her imagination, portraying Sabrina as a psychotic madwoman.
Melissa Joan Hart portrayed a villainess on two occasions on Sabrina, the Teenage Witch; playing Anirbas in Season One's "Sabrina Through the Looking Glass," and recurring as the evil Katrina Spellman in three episodes of the series.
Ad blocker interference detected!
Wikia is a free-to-use site that makes money from advertising. We have a modified experience for viewers using ad blockers

Wikia is not accessible if you've made further modifications. Remove the custom ad blocker rule(s) and the page will load as expected.