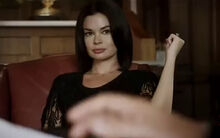 Samantha (Jordana Largy) wwas the secondary villain of the 2016 Lifetime film Stranger In The House.
When she was a child, her parents got involved in a Ponzi scheme run by crooked businessman Wayne, losing all their money in the process. When they committed suicide, Samantha vowed revenge against him. She got a job as a live in nurse for Wayne, seducing him into marrying her. His daughter Jade immediately objected, seeing Samantha as a gold digger.
Despite her efforts, Wayne stayed smitten with his new wife. But soon afterwards, Samantha killed Wayne by pushing the wheelchair bound man off a cliff near their home. Aiding her was Marco, Jade's fiancee and Samantha's lover/accomplice (whose parents also killed themselves as a result of Dwayne's Ponzi scheme). Having convinced Wayne prior to change his will to leave her with almost everything, Samantha began to enjoy her newly gotten wealth, all but entirely ditching the "grieving widow" image she was originally meant to play. Halfway through the movie, Marco killed Samantha after finally getting frustrated with her reckless spending and out of control behavior.
Jordana Largy went on to portray minor villainess Cori in the 2017 Lifetime film Manny Dearest.
Ad blocker interference detected!
Wikia is a free-to-use site that makes money from advertising. We have a modified experience for viewers using ad blockers

Wikia is not accessible if you've made further modifications. Remove the custom ad blocker rule(s) and the page will load as expected.