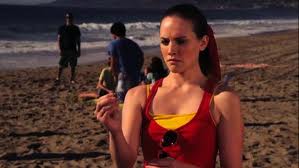 Sandy was a crazed fan girl who appeared in 
Big Time Beach Party
 as the main antagonist. She originally went out with a motorcycle gang member named Tad, and had a huge crush on Kendall. She ended forcing him to be her boyfriend. This causes Jo to get jealous and angry with Kendall, even though he barely knows Sandy and keeps trying to hide from her. Later,Kendall tried to break it to Sandy gently and she overreacted, and she teamed up with Tad to beat Kendall at a drag race. Kendall wins, and Sandy tried to rejoice with him, but Kendall finally convinces Sandy that there is nothing between them.
Ad blocker interference detected!
Wikia is a free-to-use site that makes money from advertising. We have a modified experience for viewers using ad blockers

Wikia is not accessible if you've made further modifications. Remove the custom ad blocker rule(s) and the page will load as expected.