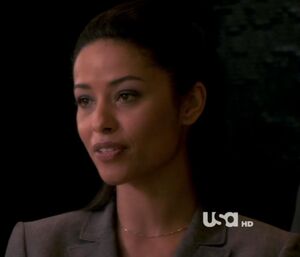 Selina
(Meta Golding) is a villainess from The USA Network series,
Burn Notice
. She appeared in Season Four's "Entry Point."
Selina is the personal assistant of Ken Bocklage, the CEO of a software company. She took the job in an attempt to steal an antique Alexander the Great sword just purchased by Bocklage. Selina contacted Andrew Deans to help her steal the sword and hired a forger named Buddy to make two onyx lion heads and some tooled leather to help her forge a duplicate. In order to tie up any possible loss ends, the evil Selina killed Deans by blowing him up with a car bomb, and then tried to electrocute Buddy in his hot tub. Buddy later hired Michael Westen and Fiona Glennanne to help protect him. Selena later killed the guard at the building and switched the real sword with a fake one. She later escaped disguised as a firefighter, but she failed in her attempt and was subdued by Michael. Selina was later arrested and charged with every crime she committed, but before she was subdued, she continued to threaten to kill Buddy.
Ad blocker interference detected!
Wikia is a free-to-use site that makes money from advertising. We have a modified experience for viewers using ad blockers

Wikia is not accessible if you've made further modifications. Remove the custom ad blocker rule(s) and the page will load as expected.