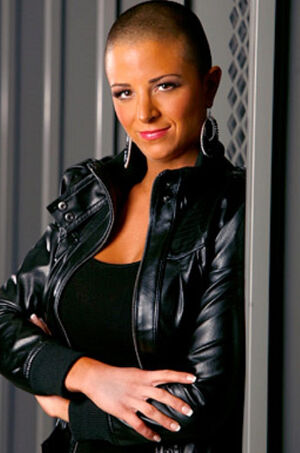 Serena
is a retired professional wrestler best known for competing in
WWE
and briefly in
TNA
, where she portrayed a villainess in both promotions.
Serena debuted for WWE in January 2010 as an audience member who volunteered to take CM Punk's "Straight Edge" pledge, which included getting her head shaved. In the weeks that followed, Serena served as the lone female member of the Straight Edge Society, with Punk and Luke Gallows, and mainly served as a heel valet to both members. On August 20, Serena competed in her only match in WWE: a mixed tag team match pitting herself and Gallows against Kelly Kelly and Big Show. Serena pinned Kelly to pick up the victory. The match aired on the day that Serena was released from WWE, and was taped three days in advance.
In March 2013, Serena participated in TNA's first ever Knockouts Knockdown PPV, which aired on September 6, 2013. Serena competed against Mickie James in a singles match for the remaining spot in the Queen of the Knockouts Battle Royal, and during the match, Serena turned heel and resorted to villainous tactics, but was defeated by Mickie. In June 2015, Serena returned to TNA as the lone female member of The Revolution, a villainous stable led by James Storm, during the group's feud with Mickie and Magnus. Regarding her reasons for joining Storm, the evil Serena claimed that she was betrayed by Mickie after she became famous. In the feud, Serena teamed with Storm in a losing effort against Mickie and Magnus, and after her participation, Serena retired from wrestling on July 10, 2015.
Ad blocker interference detected!
Wikia is a free-to-use site that makes money from advertising. We have a modified experience for viewers using ad blockers

Wikia is not accessible if you've made further modifications. Remove the custom ad blocker rule(s) and the page will load as expected.