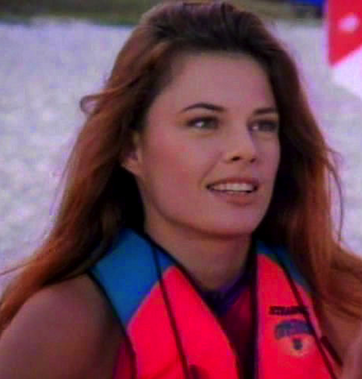 Shannon Daring
(Alison Armitage) is a thief in the 1994 episode (1.13) "Queen of Hearts" for the TV series "Thunder in Paradise".
Shannon is first seen in the episode as she strolls down the beach and catches the eye of Martin "Bru" Brubaker (Chris Lemmon).  She jumps on a jetski, and Bru is intrigued enough to follow her in his own.  They race around until she stops at a secluded beach.  While they are laying on the beach exhausted, Shannon tells him that she loves adrenaline.  
Later that day, we discover that her real plan is to steal the British Queen's royal scepter during a celebration.  She plans on using Bru to gain access to the speedboat owned by Randolph J. "Hurricane" Spencer (Hulk Hogan).  The boat known as Thunder, has a very powerful computer in it, that she feels will help in her quest to get away after the theft.
That night after seeing the scepter in a ceremony, breaks into a secured area wearing all black, and steals the sceptor.
The next day, we see Shannon and Bru attending a monster truck rally, where she latches onto the owner of the winning truck.  This to is to gain access to his vehicle.  She disses Bru to run off with the driver.
The next day, we see Shannon once again show up on the docks, where Bru is working on the boat.  You know the whole saying, fool me once....shame on you....fool me twice....  Anyway, Bru takes Shannon out for a ride in the boat.
At the end of the episode, "Bru" realizes that she tricked him and captures her on board. All her attempts to get away with her crime are eventually foiled since "Bru" now proves immune to her charms and locks her up after a short fight.
It is supposed that Shannon was handed over to the police and arrested, although this is not shown.
Alison Armitage appeared as Stunner in the 2001 episode "Power Play" for the TV series "Black Scorpion".
Ad blocker interference detected!
Wikia is a free-to-use site that makes money from advertising. We have a modified experience for viewers using ad blockers

Wikia is not accessible if you've made further modifications. Remove the custom ad blocker rule(s) and the page will load as expected.