Sharon Wilson is a hot villainess who's into hot cars. She was played in a 1968 episode of Adam-12 by the lovely Judy Brown. As an interesting side note, Judy later played a female inmate in the 1971 film, 'The Doll House.'
SYNOPSIS:
Sharon's a cute car thief who has a run of bad luck. While speeding away from one of her capers, she roars past an LAPD patrol car. Officers Reed and Malloy take off on a high-speed chase through Los Angeles.
As if Sharon's luck wasn't bad enough, she takes a turn onto a dead-end street and crashes a nice red Mustang into a guard rail. Reed and Malloy spring from the squad car, guns drawn. Then, to their surprise, the Mustang's door slowly opens and a shapely pair of female legs appear, between a pair of white high-heeled sandals and a barely-legally short minidress.
Sharon flashes a charming smile and 'Hello' as the officers put away their guns and advance. She flirts with Malloy and tries to explain to him that the whole affair was just a joyride and a joke. Reed has learned the truth, though, as Malloy searches the villainess' purse.
"Just a game?" Malloy smiles, taking out his handcuffs, "Now for the rest of the game: down at police headquarters."
"You cops just have no sense of humor" Sharon pouts as Malloy handcuffs her behind her back, and leads the frustrated beauty back to the squad car.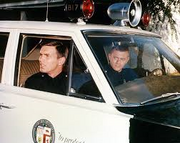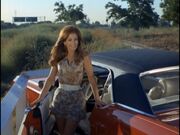 Ad blocker interference detected!
Wikia is a free-to-use site that makes money from advertising. We have a modified experience for viewers using ad blockers

Wikia is not accessible if you've made further modifications. Remove the custom ad blocker rule(s) and the page will load as expected.