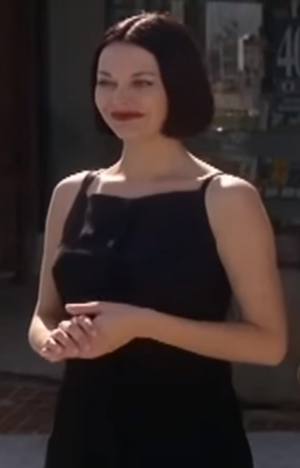 Shauna Teague (Musetta Vander) was the main villainess from Diagnosis Murder episode 3.16, "Murder by the Book" (airdate April 19, 1996).
Shauna Teague was a call girl and the co-author of "Munchies, Snacks, and Spreads," a tell all book also co-written by fellow call girl Carrie and Melissa Farnes. She is seen leaving in a limo, but during Melissa and Carrie's radio interview, Shauna is apparently shot to death by Thomas Pitt, who had been shown at the book signing harassing the women.
As revealed later on, Shauna faked her murder, and she and Pitt had been working together on a con that included killing Carrie and Melissa. Shauna's motive: with all three of them dead, she could cash in on an all-rights clause under a different name. Shauna killed Carrie after Pitt kidnapped her, but it was revealed that Pitt was actually nervous about their plans and planned to tell Carrie everything. After killing Pitt, the evil Shauna attempted to run down Melissa in her car, only for Steve to shoot and kill the villainess.
Ad blocker interference detected!
Wikia is a free-to-use site that makes money from advertising. We have a modified experience for viewers using ad blockers

Wikia is not accessible if you've made further modifications. Remove the custom ad blocker rule(s) and the page will load as expected.