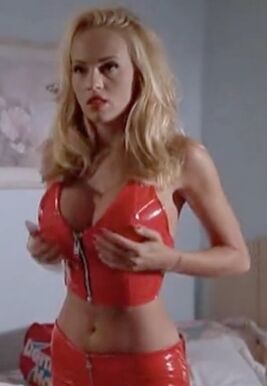 Sofia plays a mysterious double agent spy in the 1998 film, "L.E.T.H.A.L. Ladies: Return to Savage Beach". Sofia is played by the actress and Playboy Playmate, Carrie Westcott.
Sofia first appears in the movie putting on a red latex PVC outfit in a Ramada Inn hotel room. She has a difficult time adjusting her very large breasts inside the tight fitting outfit as she zips up her top. Then she laces up some roller blades and grabs some pizza and drinks. From here, you see her rollerblade down the sidewalk and enter an office building which is owned by the FED's (L.E.T.H.A.L. headquarters) posing as a pizza delivery girl. She offers a security guard, a receptionist and an office manager some spiked ginger ale and pizza, telling them that she has just opened up her own Sofia's Pizza down the street. After the three are knocked out, she enters an office and grabs some computer files pertaining to the location of Savage Beach in Hawaii. Supposedly, this is where the gold that the Japanese stole from the Philippines during WW II was buried.

Next we see Sofia show up at the evil boss, Rodrigo Martinez (Rodrigo Obregon), who we thought had been killed off in the previous movie put out by Andy Sidaris. She is wearing a fur coat and he is wearing a mask like the Phantom of Opera. She removes her fur coat to reveal a nice set of lingerie complete with garter belt, thigh high stockings, and high heels. The two have a steamy love session while Rodrigo is wearing some sort of Zorro meats Buzz Lightyear.
Next we see her dressed in a black leotard ninja outfit and taking out who we though to be the good guys with a dart gun. She steals the gold buddha and takes it back to Rodrigo. Rodrigo knocks her out while she is wearing a very short olive green mini skirt dress. The good guys find her knocked out.
Gallery: