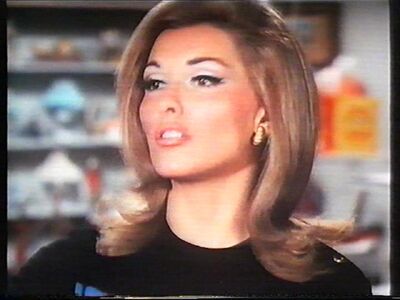 Sonja is a villainess henchwoman who works for the criminal syndicate known as KAOS.
Played by - Nancy Kovack (b 1935) Appears in -
TV series - Get Smart (USA 1965 - 70)
Episode - Series 4:16 The day they raided Knights (First broadcast on the NBC network on the 11th of January 1969).
Story -
In this spy spoof comedy TV series, Maxwell Smart, bumbling operative for CONTROL, and his partner Agent 99, fight against "KAOS - the international organization of evil". KAOS uses a redemption store for trading stamps as a way to distribute weapons, the latest being a new stereophonic gun - 2 barrels 1 trigger! During a budget crisis at CONTROL, Agent 99 gets a second job there and discovers what's going on.
Character and appearance -
Sonja is a typical ruthless KAOS agent. A beautiful fairly tall white blonde woman in her early 30s.
Weapon -
A handgun
Fate -
During the climactic fight, a gloating Sonja gets the drop on Smart and has her gun in his back. Agent 99, still strapped to the surf board she's been tied to by KAOS, comes up behind Sonja and crashes the board down onto the hapless KAOS agent's head, knocking down the stunned bad girl. Presumably she is arrested later with the other KAOS villains.
Gallery  
Edit
Ad blocker interference detected!
Wikia is a free-to-use site that makes money from advertising. We have a modified experience for viewers using ad blockers

Wikia is not accessible if you've made further modifications. Remove the custom ad blocker rule(s) and the page will load as expected.