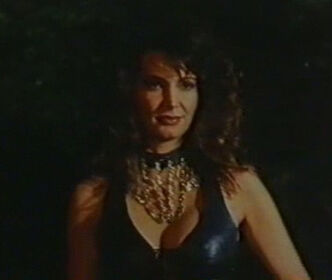 Sultana (Toni Naples) is a villainess from the movie "Deathstalker II".
She is a wicked warioress, and the lover of the main villain, Jerak. Together, they have overthrown good queen Evie, with the help of an evil sosie of her. Fortunately, Deathstalker, the hero is here for the rescue. She grabs the rightful queen, and suspends her above a boiling cauldron. A sword fight ensues with the hero, who ultimately kills her before the blonde queen falls to her death.
Shortly after, Jarek resurrects Sultana so that she may again fight against the heroes. However, when things get too heated, the villainess makes a break for it and is not seen again.
Ad blocker interference detected!
Wikia is a free-to-use site that makes money from advertising. We have a modified experience for viewers using ad blockers

Wikia is not accessible if you've made further modifications. Remove the custom ad blocker rule(s) and the page will load as expected.