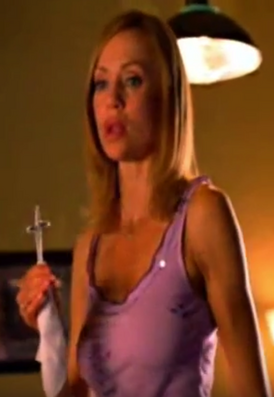 Susan Hastings (Vanessa Angel) was a villainess from the 2004 film, Vampires: Out for Blood. She was a noted author of vampire novels, as well as the ex-wife of main protagonist Hank Helton, who had been stalking her.
When Hank is bitten by a powerful vampire, Susan reluctantly helps him seek out the vampire nest. Despite being handcuffed by Hank to keep her safe, the master vampire, Layla Simmons (Jodi Lyn O'Keefe) gets to Susan and bites her, as both of them reveal to Hank. Susan states that killing the master would kill whoever is connected to him, with only the killer staying alive, so with that, both Hank and Susan kill the master. During their escape, however, Susan stays behind, and Hank ends up put under psychiatric hold; under arrest for killing Susan.
In the film's end, however, Susan turned heel when she appeared in Hank's cell, revealing that she has become an evil vampiress. She boldly revealed that she had always wanted to become a vampire; using Hank and his devotion to her to get what she wanted. After her heel turn, the evil Susan pounced on Hank and morphed into her demonic vampire form, but she was killed by Hank with a wooden stake.
Vanessa Angel appeared as the villainous Kathryn Scofield, in the episode "The Phantom Killer" for tenth season of Murder, She Wrote in 1993.
Vanessa Angel appeared as Erica Sharpe in the 2004 film, Puppet Master vs Demonic Toys, and played the evil Susan Grace a year later in Criminal Intent.
Vanessa Angel appeared as the evil witch Cassandra Keegan in the 2013 film, Hansel and Gretel:  Warriors of Witchcraft.