Sweet Tart is a villainess appearing in the "Lois & Clark: The New Adventures of  Superman" episode "The dad who came in from the cold" (season 3, episode 13). She is played by Una Damon.
Sweet Tart is the henchwoman of a villain who plans to murder
Lois and Clark and frame Jimmy's father, a former se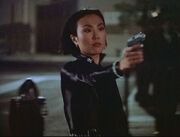 cret agent. In the process, she kidnaps Jimmy and ties him up. Eventually, her boss' plans are foiled by Superman, who unceremoniously disarms the henchwoman and takes her into captivity. Sweet Tart offers no resistance as she probably realises that she won't stand a chance against Superman's powers.