Tanya (played by Melissa Brasselle) is the second villainess in the action movie thriller Demolition High (1996). She is an active (and attractive!) member of a terrorist group who plans to launch a missile.
The terrorists take hostages at a high school, and one of the students, Lenny (played by Corey Haim), tries to save the day. Tracked by the ruthless and brutal Tanya he has his job cut out for him to escape this especially "hard to kill" evil babe.
Tanya is half mad, violent and brutal but she really believes in a better world (blinded by her love for the leader of the group) and she seems a very sweet young woman sometimes.
Melissa Brasselle also portrayed villainess Tiffany from the 2004 movie Curse of the Komodo.
Melissa Brasselle also portrayed Shayla the vampire in the 2009 movie Vampire in Vegas.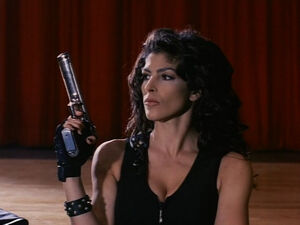 Ad blocker interference detected!
Wikia is a free-to-use site that makes money from advertising. We have a modified experience for viewers using ad blockers

Wikia is not accessible if you've made further modifications. Remove the custom ad blocker rule(s) and the page will load as expected.