Taru (Lauren Heather McMahon) is one of the main cretins in the 1986 Troma film "Class of Nuke 'Em High". 
Taru was initially planned to be main antagonist Spike's girlfriend and the primary female villain in the film, however, McMahon was in a serious car accident after filming her infamous scene near the end of the movie. Parts of the story were rewritten, and the cretin Muffey was created to fill the role.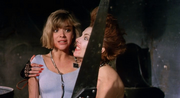 Ad blocker interference detected!
Wikia is a free-to-use site that makes money from advertising. We have a modified experience for viewers using ad blockers

Wikia is not accessible if you've made further modifications. Remove the custom ad blocker rule(s) and the page will load as expected.