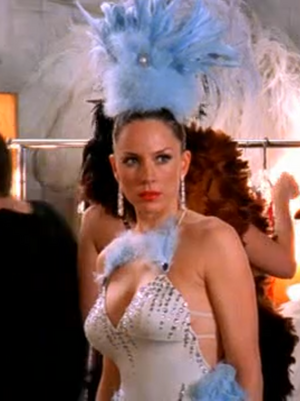 Teresa Telenko
(Krista Allen) is a minor villainess from
Monk
, appearing in Season Three's "Mr. Monk Goes to Vegas."
Teresa was one of the Vegas showgirls at a casino owned by Daniel Thorn, who she was having an affair with. It was later revealed that Daniel killed his wife, Sheryl, and Teresa played a role in making the murder look like an accident.
After the murder, the evil Teresa appeared from an elevator shaft dressed as Sheryl and came out with Daniel; passing herself off as his wife. In front of the media camera, Teresa told Daniel that she needed to go back up the apartment to get the tickets.  Back in the elevator, she placed Sheryl's body back down on the ground.  Then she made it look like her scarf was caught in the door; which made it appear as if she was accidentally strangled to death.
When Teresa was initially questioned backstage after a performance, she was dressed in a small showgirl dance outfit, which included blue headfeathers and feathers around her backside.  Adrian Monk was unable to look at Theresa, since she was as he said, "nakedish". His partner, Natalie Teeger was mortified, that Monk was this way.
The evidence came in the revelation of a picture in a newspaper which showed Theresa with no earrings when Sheryl distinctly had a pair on while getting on the elevator. Though her fate isn't revealed, it is assumed that Teresa was arrested along with Daniel.