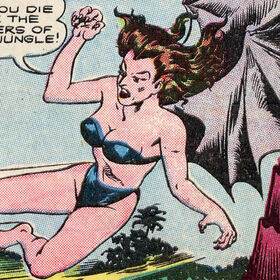 The Harpies From Hades are villainesses from Zoot Comics #10. They appear in the Rulah, Jungle Goddess story The Harpies From Hades.
The harpies attack the jungle and kidnap men with the intention of eating them. They are lead by their queen, Masta.
The heroine Rulah, goes after the harpies after men start being taken from the jungle. She fights with some of the harpies and Queen Masta before being knocked out, kidnapped and locked up by the harpies. They intend to kill Rulah, but first want the pleasure of looking at her face as she watches them eat the men from the jungle.
Rulah escapes from her prison just as the harpies are about to feast on a man, she attacks them and kills Queen Masta with her knife, she cuts off the queen's wings and threatens the remaining harpies with a similar fate if they don't stop eating men and start obeying her. They kneel in submission and obey.
Ad blocker interference detected!
Wikia is a free-to-use site that makes money from advertising. We have a modified experience for viewers using ad blockers

Wikia is not accessible if you've made further modifications. Remove the custom ad blocker rule(s) and the page will load as expected.