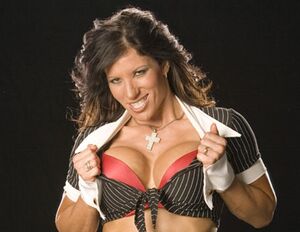 Trinity
is a former professional wrestler and valet best known for competing in
TNA
and
WWE
, portraying a villainess in both promotions.
Trinity debuted for TNA in 2003, and would become a villainess just months after her debut. Her heel turn began when she choked out backstage interviewer Goldylocks and it was further cemented shortly afterward when she aligned with Vince Russo. In her villainous role, Trinity feuded with Knockouts such as Traci Brooks, Jacqueline, and Angel Williams, which included defeating Jacqueline at the first Victory Road PPV in 2004.
Trinity left TNA and joined WWE in July of 2006 on the ECW brand, serving as the valet for the Full Blooded Italians. Trinity turned heel at Cyber Sunday in October 2006, while serving as one of the lumberjills in a Women's Championship match between Lita and Mickie James. She sided with the villainous Lita, who won the match and the vacant title, and left with the rest of the heel lumberjills; establishing Trinity as a villainess. In her last appearance in WWE on April 1, 2007, Trinity again served as a heel lumberjill at WrestleMania 23, during a Women's Championship contest between Melina and Ashley Massaro. After Melina defeated Ashley, the evil Trinity displayed her villainous persona and trash-talked the babyfaces as she celebrated with the victorious villainess.
On March 17, 2013, Trinity appeared on TNA's first Knockouts Knockdown PPV, which aired on September 6, 2013. Trinity portrayed a villainess and displayed her heel persona by flexing and giving wicked smirks during her entrance. Later on, Trinity competed in a losing effort against ODB.
Ad blocker interference detected!
Wikia is a free-to-use site that makes money from advertising. We have a modified experience for viewers using ad blockers

Wikia is not accessible if you've made further modifications. Remove the custom ad blocker rule(s) and the page will load as expected.