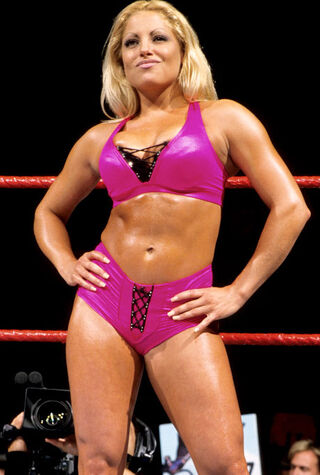 Trish Stratus is a former wrestler and manager who competed in WWE, where she portrayed a villainess.
Trish was a very seductive villainess who would use her assets to help her get what she wanted. She would also use them to distract other wrestlers so she could help the men she was managing win their matches. She also had a very cruel and bitchy personality.
She debuted in March 2000 as the evil valet for the tag team of Test and Albert. A few months after debuting she would fued with Lita, who she tormented and attacked in various ways, including pushing her off the top of a ladder through a table. She also seemed to take great pleasure in whipping Lita whenever she got the chance, using belts and straps to carry out her cruel attacks. Trish and Lita would spend most of 2000 fighting each other, in and out of the ring.
In March 2004 at Wrestlemania 20 Trish betrayed her supposed love interest Chris Jericho for his former friend and rival Christian. Trish and Christian would gloat about their relationship and torment Jericho for weeks. Trish would then resume her fued with Lita not long after, and in January 2005 at New Year's Revolution she defeated Lita to win the WWE Womens Championship. During the match Lita badly injured her knee and was barely able to stand up. Trish took advantage of this and completely dominated the rest of the match, after the match she gloated about her title win and mocked Lita's injury, laughing about it. Shortly after this new girl Christy Hemme became her next target, Trish humiliated the rookie, kicking her in the head and then spray painting the word SLUT on her back. She then went on to defeat Christy at Wrestlemania 21.
Trish Stratus later played the evil Gina in the 2015 film, Gridlocked.
Ad blocker interference detected!
Wikia is a free-to-use site that makes money from advertising. We have a modified experience for viewers using ad blockers

Wikia is not accessible if you've made further modifications. Remove the custom ad blocker rule(s) and the page will load as expected.