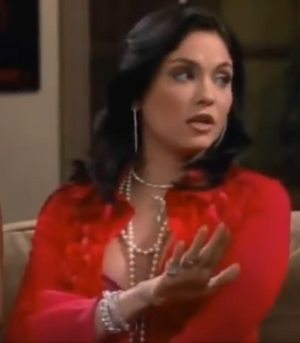 Lucy Lafleur
(Jodi Lyn O'Keefe) is the villainess from "If the Shrew Fits," episode 2.15 of
Eve
(airdate February 22, 2005). She is the evil and gold-digging stepmother of Rita Lafleur.
Lucy's slight backstory revealed that she met (and later married) Rita's father while working as a greeter at Wal-Mart, though it was also revealed that she was a stripper as well. In the beginning of the episode, Lucy quickly antagonized Shelly and Janie during a discount shoe sale, when Lucy took possession of a pair of shoes that the former of the pair intended to buy. Shelly later got back at Lucy with the same maneuver, paying for the shoes while Janie distracted Lucy.
Lucy and Shelly's fight resumed after Rita introduced her to JT and Nick, and it was Rita who revealed that she needed a loan from her father, but only if Lucy signs off on it. After Rita attempted to appease Lucy by giving Shelly's shoes to her, she pleaded with Shelly to make peace with Lucy so Rita could get the loan. However, Lucy's insulting remarks led to Shelly responding in kind, and after this, Lucy distributed Rita a check for $25,000, only to tear it up in front of her.
In the episode's climax, Shelly (after Janie's coaxing and only due to her friendship with Rita) apologized to Lucy, who responded with her continuous callous insults to Shelly and Janie. She wrote a check for Rita, all the while accusing her of being careless with money and referring to the clothes on display as "tacky" and "out of style." Fed up with her wicked stepmother's behavior towards her friends, Rita tears up the check in defense of her friends, saying that her self-respect isn't for sale and that she'd rather be poor than ashamed herself, with Lucy only responding that the only thing to be ashamed of is being poor.
Trivia
Jodi Lyn O'Keefe is arguably most famous for portraying bully Taylor Vaughan in the 1999 teen movie She's All That, as well as recurring villainess Gretchen Morgan on Prison Break.
Jodi Lyn O'Keefe's other villainous roles include serial killer Debbie Strand in Devil in the Flesh 2, vampiress Layla Simmons in Vampires: Out For Blood, tragic alternate reality villainess Gina Wright in A Nanny's Revenge, the sinister Spider Demon on Charmed, murderous femme fatale Lisa on The Finder, Satan worshipper Isabella on Two and a Half Men, and bully Candace Aimes on Tru Calling.
Videos