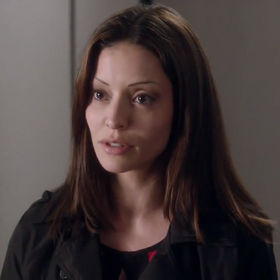 Gabriela Del Toro 
(Emmanuelle Vaugier) is the hidden (redeemed) villainess of "Bon Cop, Bueno Cop", the Season 5 premiere of 
Republic of Doyle
 (airdate October 2, 2013). She was a Mexican police officer who encountered Jake Doyle when he was forcibly taken to Mexico by drug smuggler Carlos Romero. Gabriela had Jake imprisoned for three months, but once she learned that Jake was from Newfoundland, she enlisted him to help her take down notorious Mexican kingpin Eli Kane, who was spreading his business over to Canada and starting in St. John's, with the two travelling to Newfoundland to start their work.
But as revealed in the episode's climax, Gabriela was the wife and unwilling accomplice of Kane, forcing her to help him kill Jake to keep him from interfering with the spread of his drug empire. Gabriela's villainous reveal came after she was seemingly kidnapped and taken to a junkyard by Kane, where she appeared and held Jake and his father Malachy at gunpoint following Jake getting a call from Rose to inform him that Gabriela had been under investigation by the Mexican police. After apologizing to Jake, Gabriela helped Kane chain the father-son duo in a car to be crushed to death. After escaping, Jake and Malachy caught Gabriela as she was trying to get away with Kane's lieutenants as they were being transported into Canada as migrants, with Gabriela being thrown from the van.
As Jake rushed to Gabriela's side, Gabriela revealed the reason why she had turned on Jake and was working for Kane: he was holding their son Benito hostage, and told her that he would return him to her in exchange for her helping him kill Jake. While confessing to Jake in the police station, Gabriela sincerely apologized for her betrayal and revealed that she had only been motivated by a desire to save her son, revealing how Kane had killed her father when he tried to stop him. Gabriela ultimately helped Jake and the police take down Kane and rescue Benito, with Gabriela later telling Jake that she planned to stay in the United States due to not being able to return to Mexico.
Trivia
Emmanuelle Vaugier also played hidden villainess Pat on Monk, werewolf Madison on Supernatural, assassin Erica Raines on Hawaii Five-0, femme fatale Lisa Gardner on The Protector, and the vengeful Abigail Raven from The Haunting Hour.
Emmauelle Vaugier also appeared in the film Blonde and Blonder as Cat.
Gallery