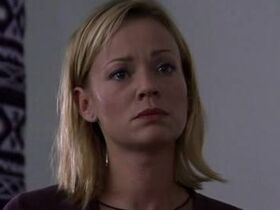 Hilary Barclay (Samantha Mathis) is the secondary villainess of "Control", episode 5.09 of Law & Order: SVU (airdate November 18, 2003). Some years prior to the episode's events, Hilary was kidnapped and held captive in a dungeon by serial abductor Horace Gorman, who raped and beat her as a means of keeping control over her. After a few years, Gorman let Hilary go free and she turned to drugs and alcohol to cope with the trauma. Her alcoholism was what caused both her mother Juliet and SVU detective Olivia Benson to disbelieve her claims, allowing Gorman to go on to kidnap and torture other women.
After finding Gorman, Hilary began stalking him, waiting for the right moment to kill him. When Gorman spotted her in a subway, Hilary threatened to report him to the police. Gorman scoffed and told her that no one would believe her. When he turned to leave, Hilary knocked him out and dragged him to the end of the platform. But rather than kill her abductor, HIlary castrated him, believing it would make him suffer worse. Hilary later told Juliet what she'd done, and her mother would later murder Gorman by stabbing him to death. When Benson and Stabler went to arrest Hilary, believing her to have killed him, Juliet confessed and allowed the detectives to arrest her despite Hilary's pleas. But Juliet's attorney Lionel Granger had Juliet's confession deemed inadmissable and Hilary went along with his plan to cast reasonable doubt by arguing that Benson had murdered Gorman to redeem herself for not believing Hilary years prior. 
While on the stand testifying for Juliet, ADA Novak confronted Hilary with the fact that the knife used to kill Gorman had been an antique that was found in Juliet's store with Gorman's blood on it. To protect her mother, Hilary claimed that she had killed Gorman and had stolen the knife from the store to do so. Hilary's outburst led to Novak being forced to dismiss the case against Juliet and Hilary was arrested for Gorman's murder. But Hilary was revealed to be lying when Novak received security footage showing that Hilary was at a coffee shop at the time of Gorman's murder. When confronted by Benson, Hilary confessed to attacking Gorman at the subway and said that Juliet killed him to protect her. Novak arrived around the same time, telling Hilary that no matter what had happened to her, it didn't give her the right to lie or Juliet the right to murder. Despite this, Hilary showed no regret for her actions, saying that she and her mother had stopped Gorman from torturing another woman.