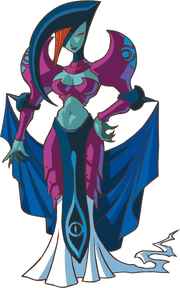 Veran (ベラン)
is the primary antagonist of the 2001 GameBoy Color Adventure game "The Legend of Zelda: Oracle of Ages", aka. "Zelda no Densetsu: Fushigi no Ki no Mi: Jikū no Shō"  (ゼルダの伝説 ふしぎの木の実 時空の章) by developer Flagship.
Veran is the Sorceress of Shadows, as well as a minion of the witches Koume and Kotake who wish to see the demon king Ganon resurrected. Using her dark magic, she possesses Impa, Nayru, and eventually Queen Ambi. Though the final boss in the standalone game, if "Oracle of Seasons" was also completed beforehand, she is merely the fourth-to-last behind Koume, Kotake and Ganon.
Ad blocker interference detected!
Wikia is a free-to-use site that makes money from advertising. We have a modified experience for viewers using ad blockers

Wikia is not accessible if you've made further modifications. Remove the custom ad blocker rule(s) and the page will load as expected.