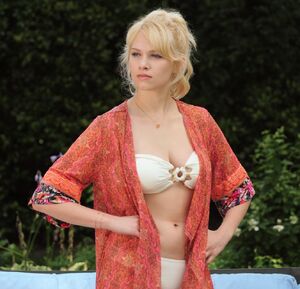 Whitney Bennett (Claudia Lee) is the main villainess of the 2017 teen movie The Outcasts (Alternately titled The Outskirts). She was a popular student at Richard Milhouse Nixon High School and was a prominent bully of anyone outside of her exclusive clique. Two of her biggest targets for bullying were best friends Jodi Shallenberger and Mindy Lipschitz. She also had a minion in the form of her friend Mackenzie.
Following the advice of a teacher, Mindy persuaded Jodi into approaching Whitney at lunch and asking her to stop tormenting them. When they do, Whitney appeared to show them respect and even invited them to a party that night, where she has the girls treated as honored guests. However, after gathering everyone in the living room, Whitney played a video consisting of video diaries Jodi had recorded on her computer that Whitney had used a fake ad to hack into, humiliating her. In retaliation, the girls worked with fellow outcasts at the school to bring down the popular cliques at their school, horrifying Whitney. Later on, after Mindy had become obsessed in her goal, she aired a video to the entire school revealing a deep secret of Whitney's: Her lavish and rich lifestyle was all a hoax, having been used to cover up the fact that she came from a very middle class family, humiliating the villainess.  
Jodi comforted Whitney outside her house, who thanked her and acted as an ally in trying to stop Mindy from pulling a prank at the Prom. But when Jodi became involved in a fight with Mindy and begged Whitney for help, the evil Whitney smirked before leaving the room, her truce with Jodi having been a ruse. She joined Mackenzie (who had also formed a fake alliance with Mindy), who called the police about the prank, which later led to Mindy's arrest. After Mindy and Jodi got into an argument in front of the prom and Whitney made a snide remark about them, Jodi snapped at the bully. The unfazed Whitney fired back by saying that she had won and that Jodi and Mindy's friendship breakdown was inevitable. The school's clique system returned to normal, but Jodi and Mindy were able to save their friendship and the protagonists all came to see the error of their ways. The epilogue revealed that Whitney went on to be Forbes' Top 30 women under 30 to watch out for....literally. 
Claudia Lee also played villainess Brooke in the film Kick-Ass 2.