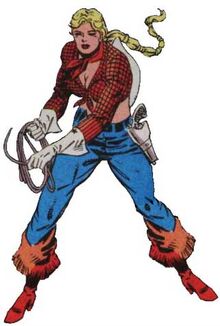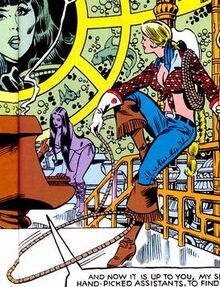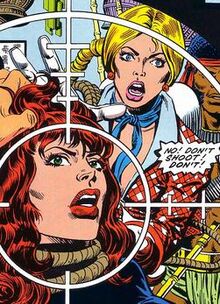 A former rodeo queen, The Wrangler used her expertise to become a mercenary.
Edit
Laralie was a young rodeo queen with amazing lasso skills turned into assassin as the western rope would become her trademark instrument of death. Laralie would be hired by Damon Dran alongside five other mercenaries and assassins which included Black Lotus, Kono, N'Kama, Deadshot Darrance and Iron Maiden to capture Black Widow. The group is sent to Hong Kong where they would ambush the Black Widow as she enters a shop to inquire information on a particular dagger. Laralie uses her rope skills to restrain Black Widow while the rest of her comrades surround the Russian beauty. The group begins to bicker and argue amongst themselves so Black Widow takes advantage of the situation and kicks Black Lotus. Black Widow flips Laralie into a wall and eventually escapes from the rest of the assassins.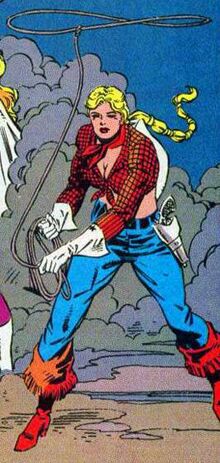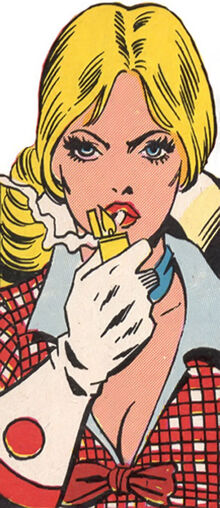 Creation
Edit
Wrangler was created by Ralph Macchio and George Perez in 1983 and first appeared in Marvel Fanfare # 11. She went by the name of Laralie in her first appearance in Marvel Fanfare but it changed to Wrangler in Captain America # 389.
Story Arcs
Edit
Fear Itself: The Home Front
Edit
Wrangler resurfaces with Ice Princess in Manhattan where they are confronted by Speedball and two members of the Avengers Academy, Hazmat and Mettle. The video of their battle is streamlined on Two-In-One.Com where a debate takes place between Marcy Pearson and Trish Tilby about the young heroes and Speedball. Speedball orders Hazmat to melt anything the Ice Princess throws at them while Mettle engages with Wrangler. Mettle is unharmed by the barrage of bullets from her pistols and easily disarms her. Both women are apprehended and placed inside temporary holding cells inside Infinite Avengers Mansion.
Skills and Abilities
Edit
Wrangler is a former rodeo queen that uses her expertise with the lariat and pistols to become a highly skilled assassin. Wrangler's lariat and lasso skills make her very dangerous because she has honed the western rope in a precision instrument of assassination.
Using her Rodeo skills and her superb dexterity with the lariat she was able to swiftly overpower and restrain the Black Widow. She was able to quickly tie up the Master Spy and render her completely helpless.