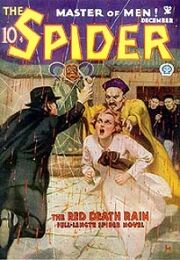 Wu Ya Che
is the secondary antagonist of the 1934 pulp-magazine "The Spider #15: The Red Death Rain". She is both the daughter and minion of the issue's primary villain, Wu Chang, aka. "The Red Mandarin". The two of them capture hero, Dick Wentworth's fiancée Nita Van Sloan, and plan to have her raped to death by an orangutan, if he does not comply with their wishes. Unfortunately for Ya Che, it is she who ultimately winds up succumbing to this fate.
Ad blocker interference detected!
Wikia is a free-to-use site that makes money from advertising. We have a modified experience for viewers using ad blockers

Wikia is not accessible if you've made further modifications. Remove the custom ad blocker rule(s) and the page will load as expected.