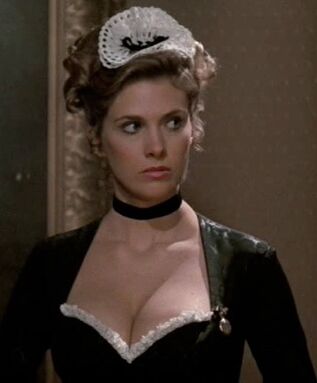 Yvette the Maid, is one of the characters in the recreation of the board game "Clue" on the screen as a comedy movie in 1985. She is played by the actress, Colleen Camp.
The movie starts off with Yvette in the library cleaning the glasses and using her feather duster while dancing to "Shake, Rattle, and Roll".
Toward the end of the movie, Yvette enters the billiard's room which is pitch dark. A whispering voice is heard saying "Shut the door. Did anyone recognize you?" Yvette responds without her French accent saying, "They must have, and not just my face. They know every inch of my body. And they're not the only ones." A rope is suddenly flung around the lovely Yvette's neck, and her life is slowly snuffed out as she gets lower and lower to the table.
The guests later find her body draped over the billiard table with a piece of rope still around her neck, and her legs dangled over the edge.
The movie, has three endings, and we don't find out Yvette's villainous tendencies until these take place.
In ending A, Yvette is revealed to be a former call girl, for Miss Scarlet (Lesley Ann Warren), who served as her madam at a brothel in Washington, D.C. It is also revealed that she slept with Col. Mustard (Martin Mull) who was her customer from the brothel. She is used by Scarlet to to do her dirty work. First Yvette murders the cook, Mrs. Ho (Kellye Nakahara) by stabbing her in the back with a dagger she picked up in the study. Then she kills Mr. Boddy/Dr. Black (Lee Ving) with a blow to the head in the study while everyone else is out of the room. Mr. Boddy was pretending to be dead, Yvette knew this and hit him in the head with a candle stick. In this ending, Yvette is strangled by Miss Scarlet with a rope on top of the billiard table. This is done in order to keep Miss Scarlet's business secret.
In ending B, Yvette is murdered by Mrs. Peacock (Eileen Brennan), who in this version is casted as a bloodthirsty sociopath by that point. This is the least believable ending of the three.
In ending C, Yvette is murdered by Mrs. White (Madeline Kahn), who killed her to get revenge for Yvette having an affair with her husband. Mrs. White went on to say that "Yes, I killed Yvette. I hated her so much, it, it, flames, flames, flames on the side of my face. Breathing, breath, heaving breasts, heaving". This was one of the greatest lines of the entire movie. Obviously, Mrs. White was a little jealous of Yvette's ample cleavage and tired of all the attention she was receiving from everyone. She must have felt she was doing a service to feminism everywhere.
It is interesting to note that when this movie was released to the movie theaters throughout the US in 1985, that each theater received only one of the three endings. It was the movie productions wish, that this would inspire the general public to attend a different movie theater to see an alternative ending. It was not a huge success. Therefore, when it was released on video, the three endings were included all together. The movie became a huge cult classic as a result.
Character
Edit
Yvette plays the sexy French Maid in the movie, whose job it is to greet and serve the guests at a party in a secluded New England Victorian style mansion. Her role as an evil babe is not revealed until the end of the movie.
Yvette's character did not appear in the popular board game, but her popularity in the movie, sparked her as a fan favorite. She provided plenty of eye candy in the film, and her confidence in wearing such a revealing costume is envious. Yvette speaks English with an obviously fake French accent.
There are plenty of times during the movie where the guests are caught admiring or jealously repulsed by her incredible assets. As she serves drinks and food, small glances at her cleavage are used to provide comic relief, and I have heard that this act is a very big draw for drinking games. "He glanced at her breasts, take a drink". "She scoffed at her cleavage in disdain, take a drink".
Yvette is a key link in the movie to three different characters, and has her demise in all three endings in the same manner (rope on the billiard table). She adds an enormous amount of sex appeal, and is far more villainous and conniving than others give her credit for. She sneaks around the house without anyone detecting her, listens in on everyone's conversations from the billiard room with a recorder. This behavior is consistent in all three endings. Then she is the huge evil babe we all know her for when she murders Mr. Boddy and the Cook in ending A. In addition, she definitely distracts both men and women with her impressive cleavage.
Appearance
Edit
She wears a very revealing French maid satin outfit which includes a very short black and white trim one-piece satin skirt dress with long sleeves. Her plunging neckline has a frilly white border that provides plenty of upward mobility for her enormous breasts. When Yvette runs, walks, or even breathes, her large breasts heave up and down, and she definitely attracts attention from the men guests and distain and jealousy from the women guests. The dress has a frilly white petticoat underskirt with ruffles that flares the skirt outward above her thigh. The short skirt accentuates her long slender legs dressed in dark back-seam silk stockings. Her long legs are made even more impossibly gorgeous by her black 5-inch high heels. There is a white apron tied in the back and hangs halfway down the front of her black skirt and comes to a point in the center. She wears a ruffled white lace headpiece with black accents on her head which is attached to her golden blonde hair, which she wears pinned up.
Around her neck is a one-inch single band black velvet choker, which ironically had ties to prostitution in the late 19th century. All I know is that it accentuates her neckline and kind of frames her cleavage.
The whole package is absolutely amazing, and I know many young boys all across America developed a French Maid fetish because of the lovely Yvette. Whether that fetish is because of the symbolism of submission or what I'm not sure. All I know is that Yvette was a real looker and this outfit showed all the right parts off.
Colleen Camp also played Donna, one of the duo of Agatha and Donna in 1977 film Death Game.
Colleen Camp appeared as the villainess Dody Rogers on the 1987 episode Crossed Up in the TV series Murder, She Wrote, as well as the evil Cynthia Evans in 2002's Second to Die.