The female regular enemies encountered in the 1996 Super Famicom fantasy RPG "Lennus II: Fuuin no Shito" (レナスII 封印の使徒) by developer Asmik Ace are listed below.
Aurora Fire (

オーロラファイア)

, Aurora Moon (

オーロラムーン)

 and Aurora Wing (

オーロラウィング)

Edit
The three zako minions of Bejould, encountered in the Cave-Nest dungeon.
Sudamayasha (すだまやしゃ)
Edit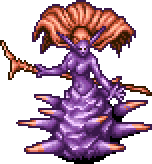 Encountered as a regular enemy in the final dungeon, Spacecraft.
Ad blocker interference detected!
Wikia is a free-to-use site that makes money from advertising. We have a modified experience for viewers using ad blockers

Wikia is not accessible if you've made further modifications. Remove the custom ad blocker rule(s) and the page will load as expected.